Do you have a lot of things and if you need something you can't find it again?
Just manage your things digitally, as individual as each thing is itself!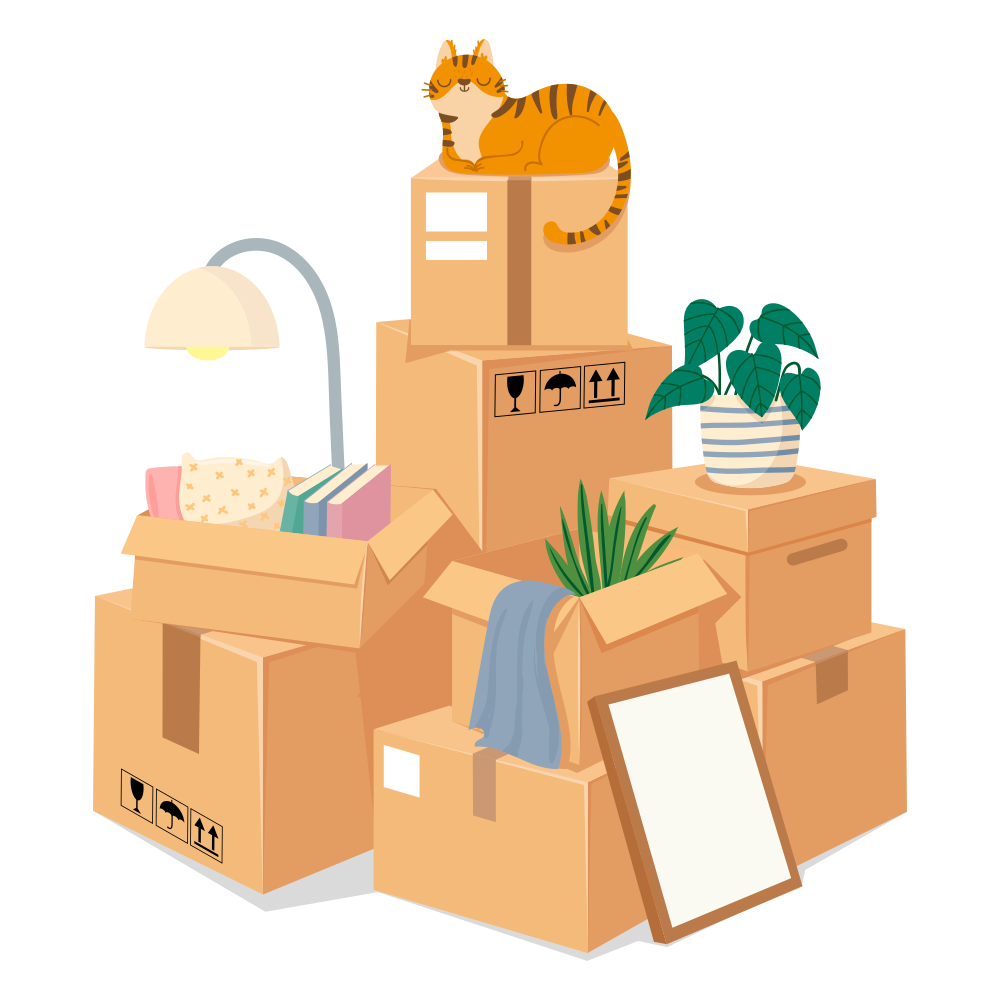 Manage all the things you can think of
You can manage all the things that come to your mind. Tools, games, consoles, furniture, sporting goods or clothes.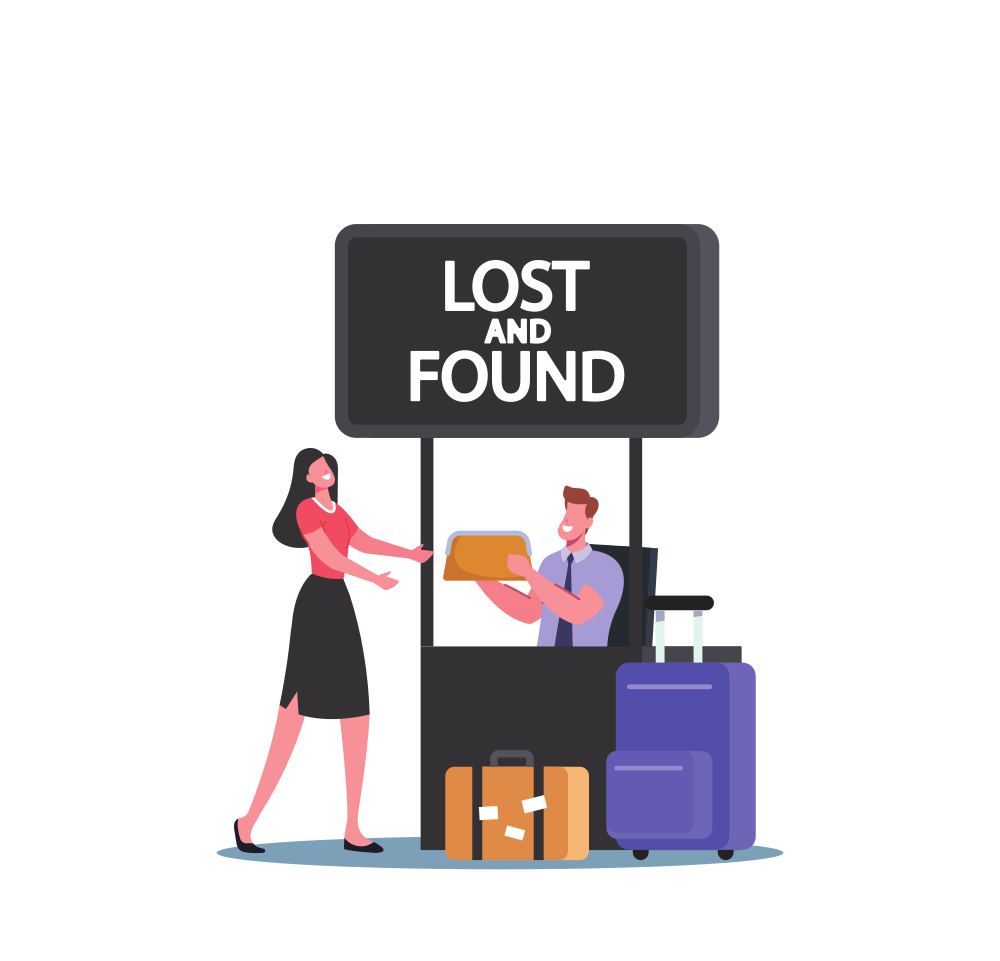 Find your things easily again
Assign the location to a thing and you always know where it is.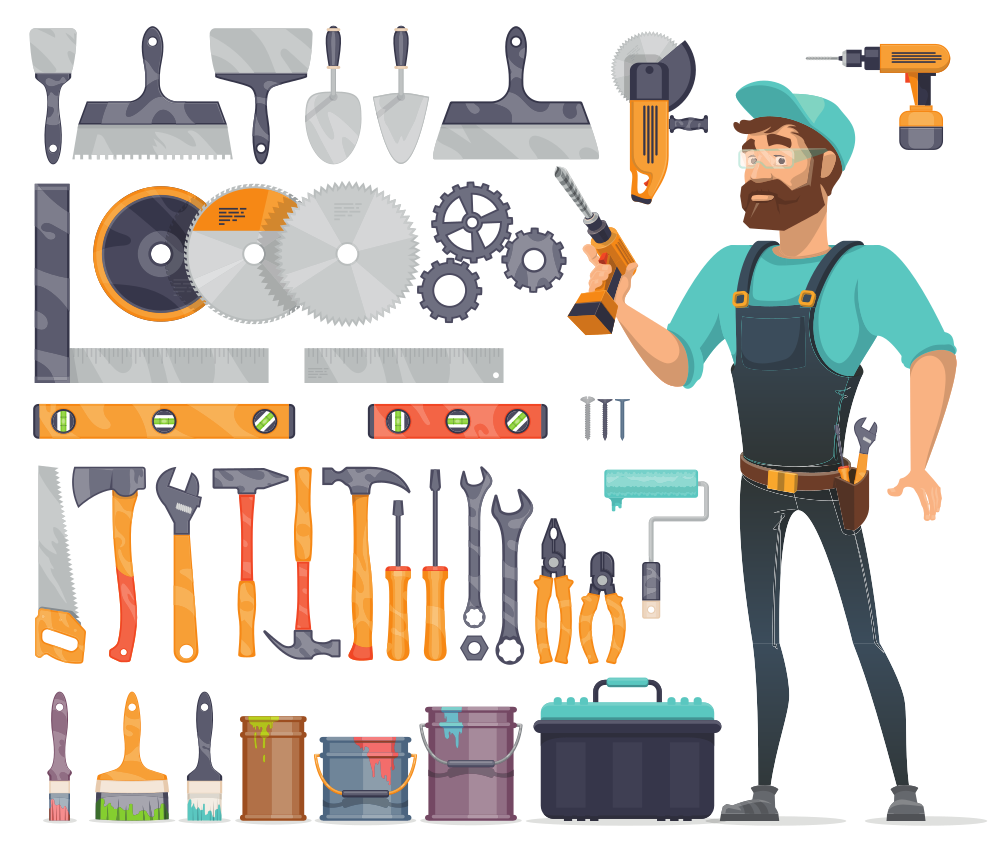 Just find out if you already own something
Save the exact properties of a thing so that you always know if you already have something if you search for it later.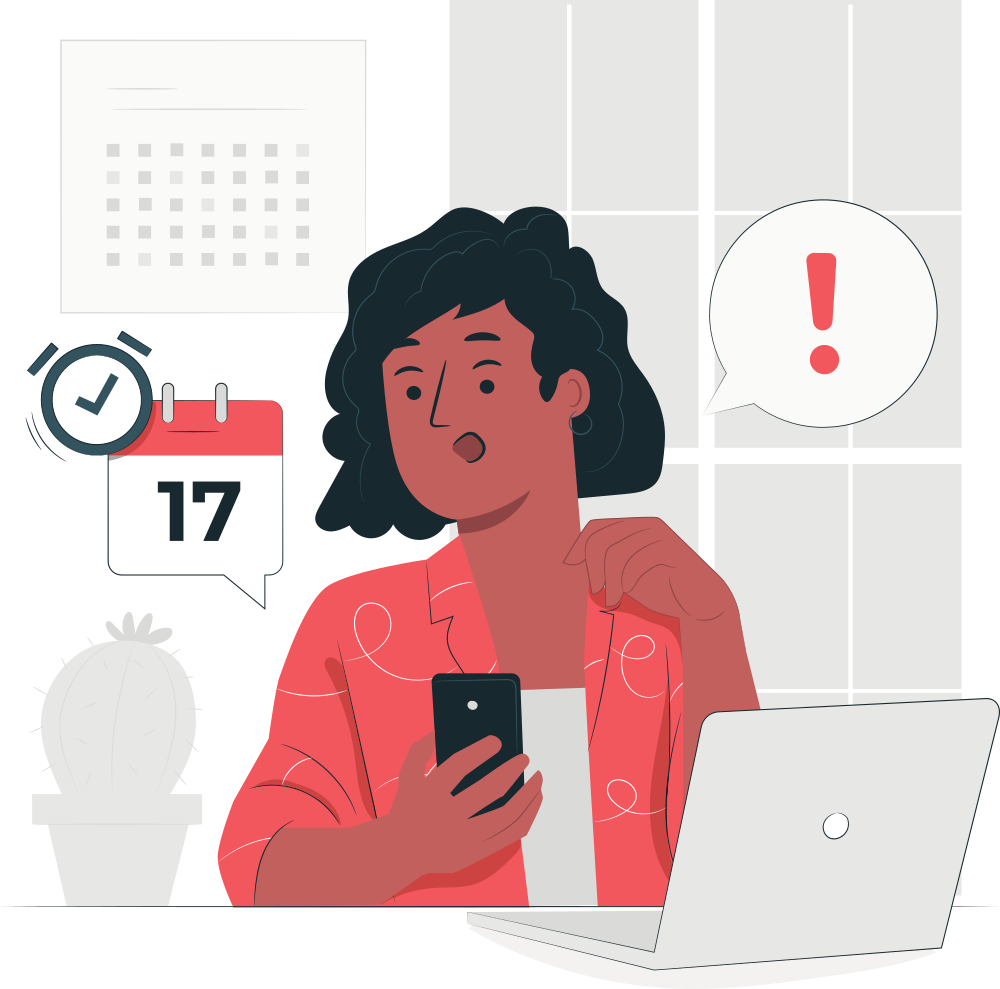 Always know when and where you get something from
Put on a thing when and where you got it from and maybe put a reminder of when you have to give it back.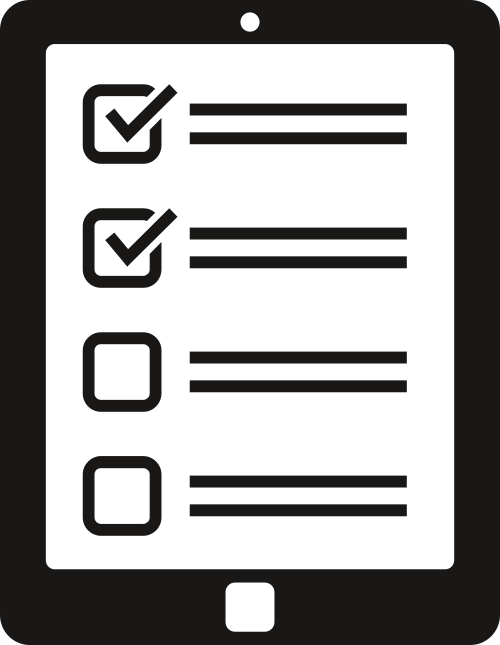 Various properties
Many different types of properties. For example texts, numbers, true/false, colors, dates or progress. Everything you need to define a thing.

Tags
Use tags to combine various properties and assign them to several things. Combine several tags in things to have a clean easily editable thing definition.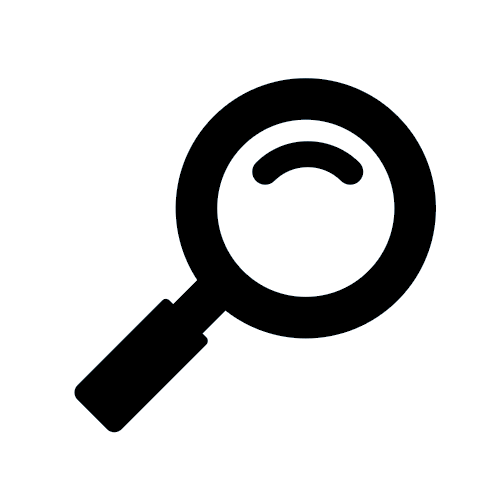 Customizable Search
Determine which properties should be searched.

Clear Result View
Set which properties should be displayed in the search results.

Reminders
A reminder with a comment can be added to each thing. Let yourself be reminded to return it to a friend, for example.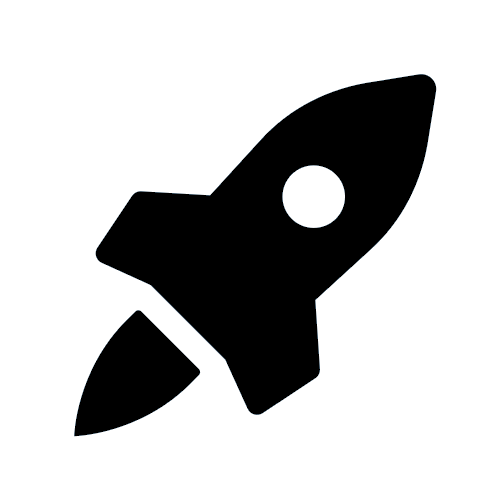 Fast Search
Find the things you are looking for quickly and easily.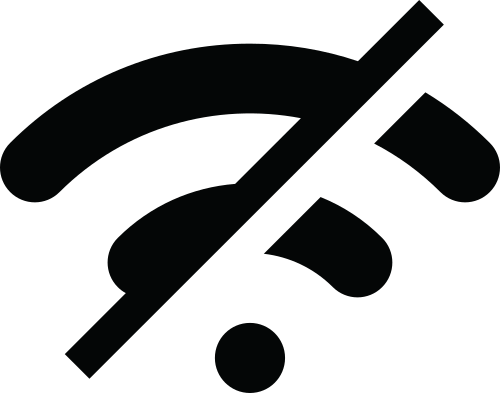 Offline
Completely offline. Your data is not send anywhere you don't want them to be.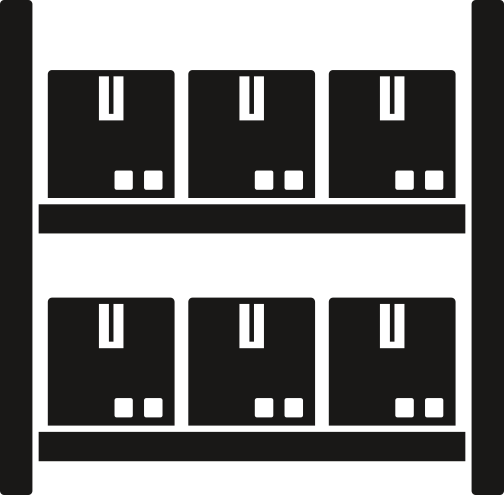 Multiple Stores
Use an infinite number of stores to organize your things.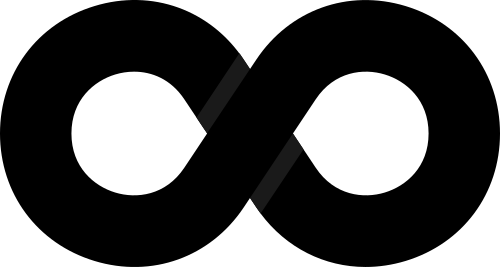 Unlimited Things
Define an infinite number of things in your stores. The sky is the limit!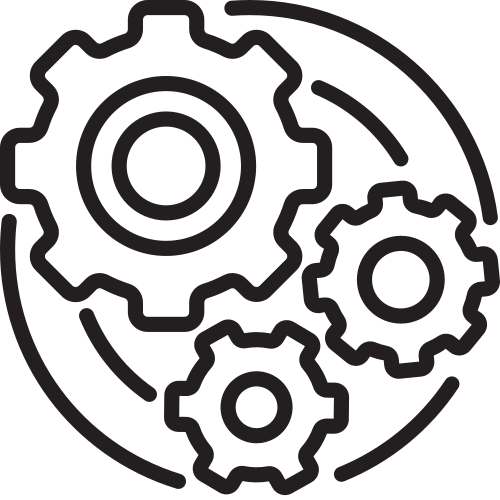 More setting options
Use further settings for the existing properties. For example, minimum, maximum settings for numbers and dates.

Images, Maps and Attachments
Attach pictures, cards and attachments to your things and have them displayed in the search results.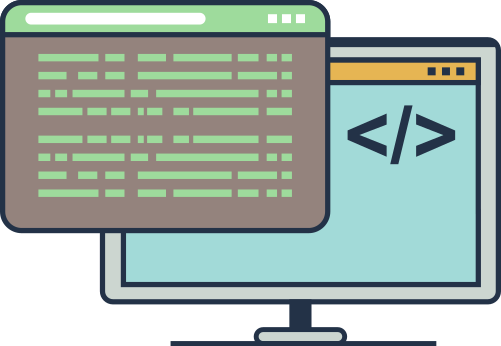 HTML
Use HTML to describe your things even better and more beautifully. The integrated HTML editor makes this as easy as possible.

Easy Share over Host Services
Define the storage location of the LoT files. For example, you can share your Data via a Dropbox or Nextcloud and manage them on multiple computers.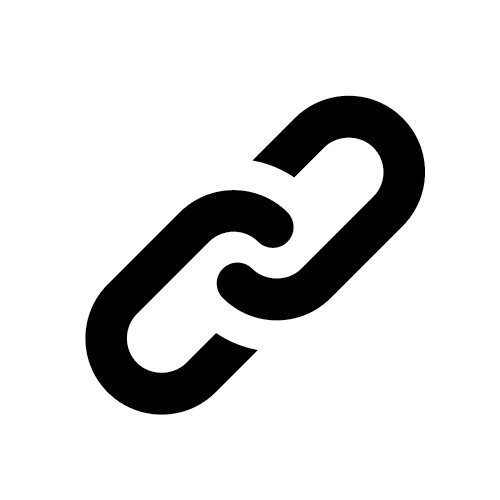 EMail or Webpage Links
Attach email addresses or links to things and call them up directly from LoT.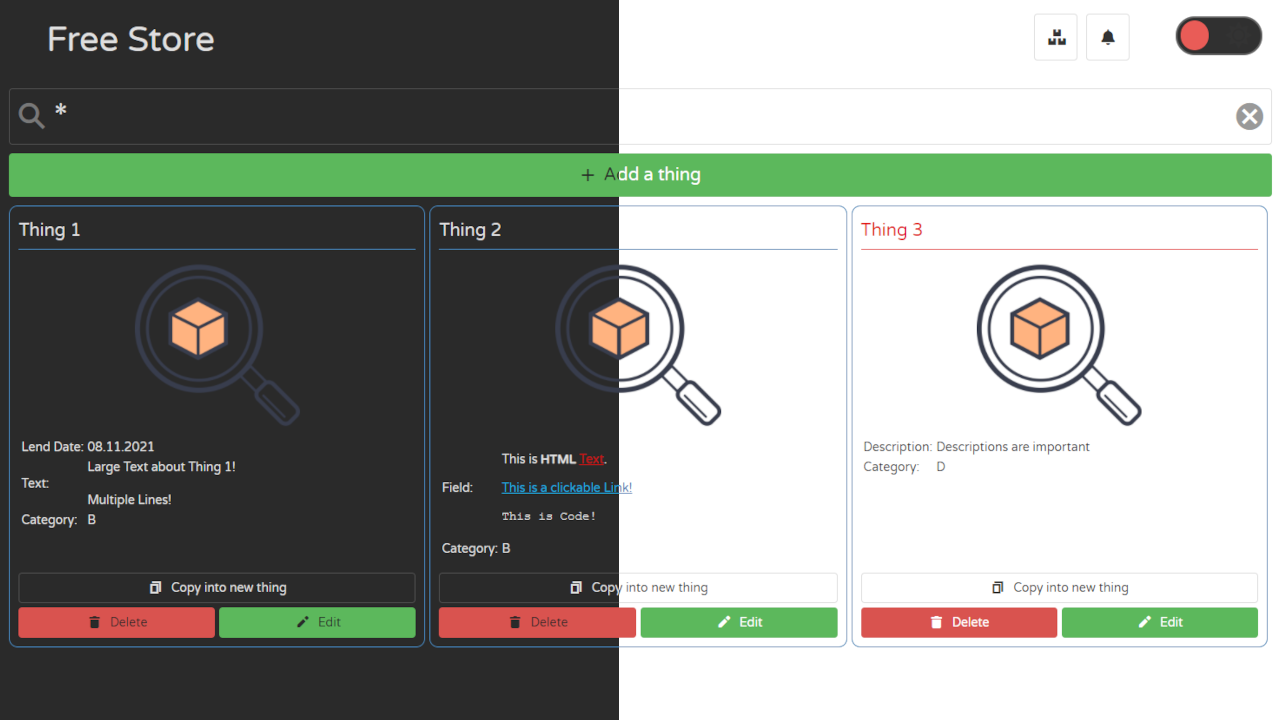 LIGHT AND DARK THEME
Two different themes are available.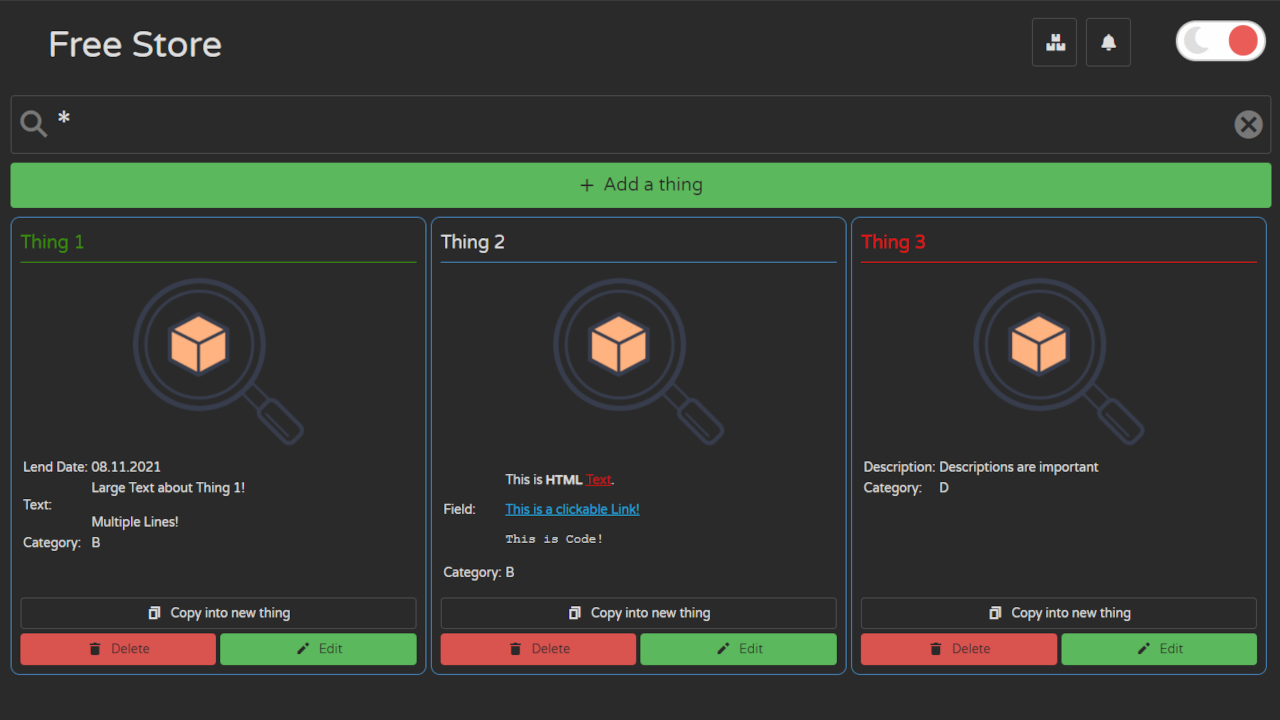 CUSTOM RESULT APPEARANCE
Decide for yourself which properties should be displayed in the search results.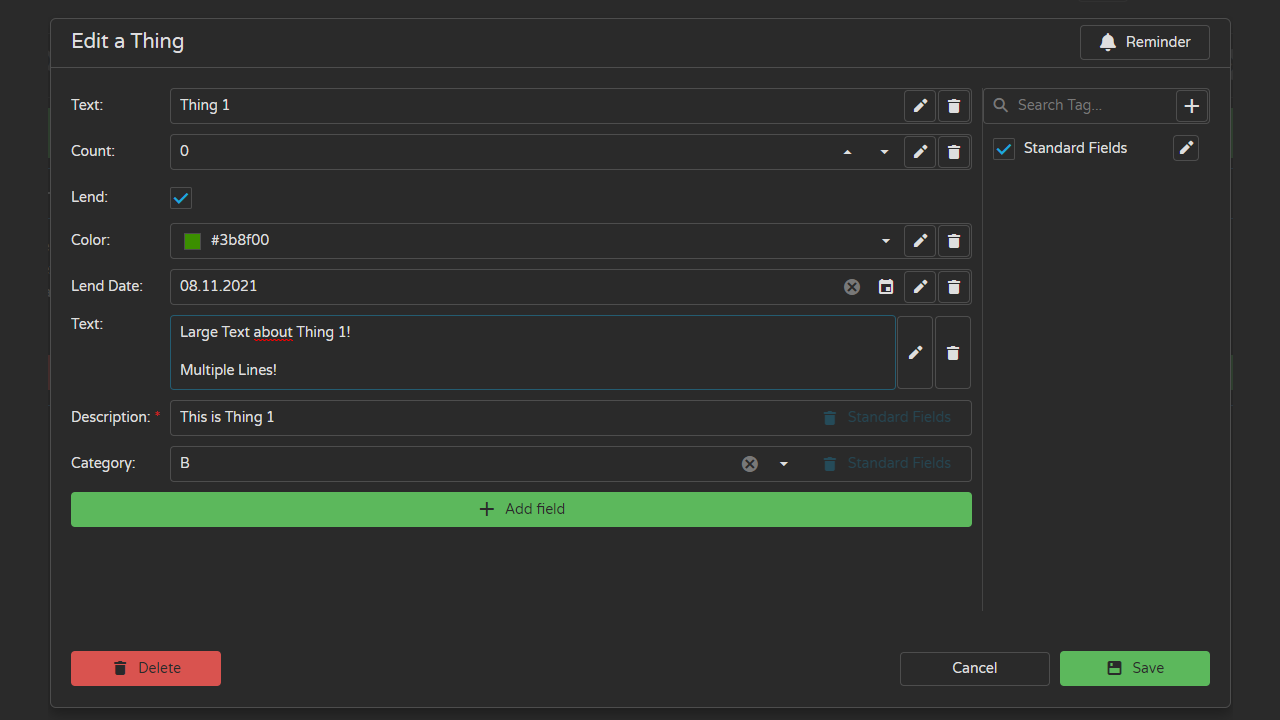 MULTIPLE FIELDS
Create individual fields with multiple settings for each thing or share one or more fields via tags.
* some field settings are only available in the Pro version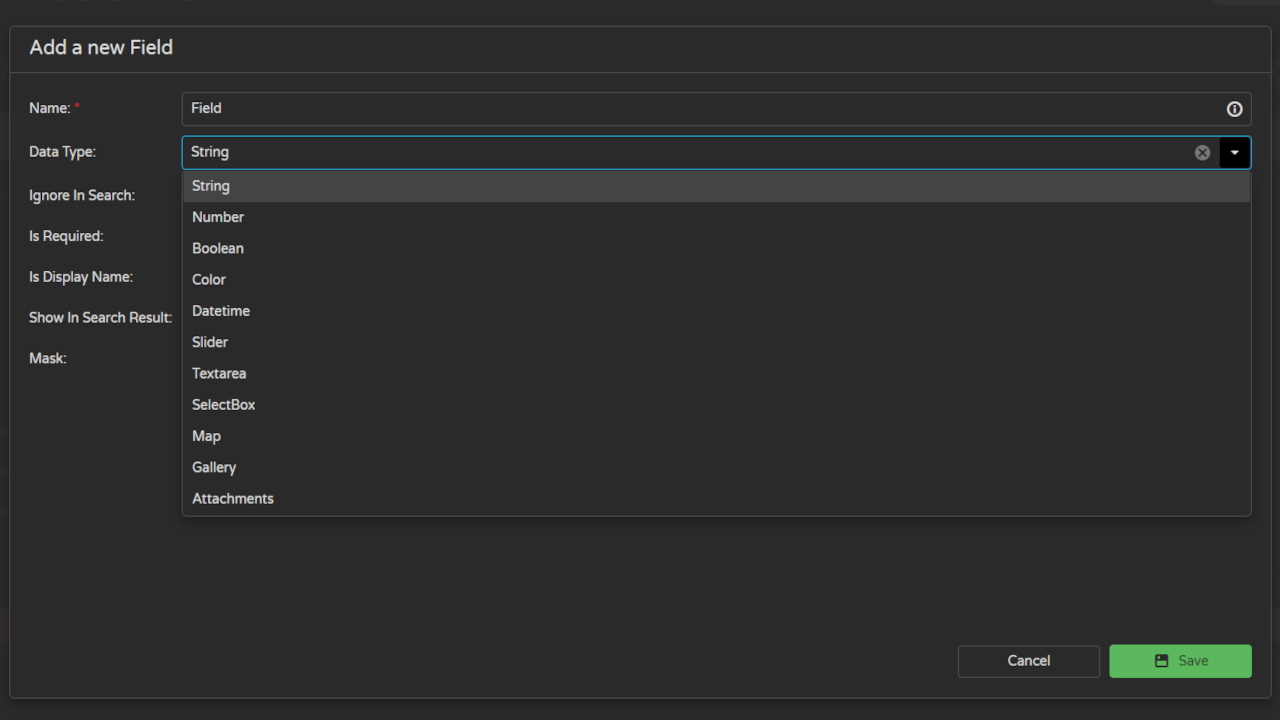 FIELD TYPES
Many different field types in order to be able to depict very different properties of things.
* some field types are only available in the Pro version
FIELD TYPE SETTINGS
Each field type offers different settings. Many of these properties can be included or excluded in the search or influence the behavior in relation to the display of the item.
* some settings are only available in the Pro version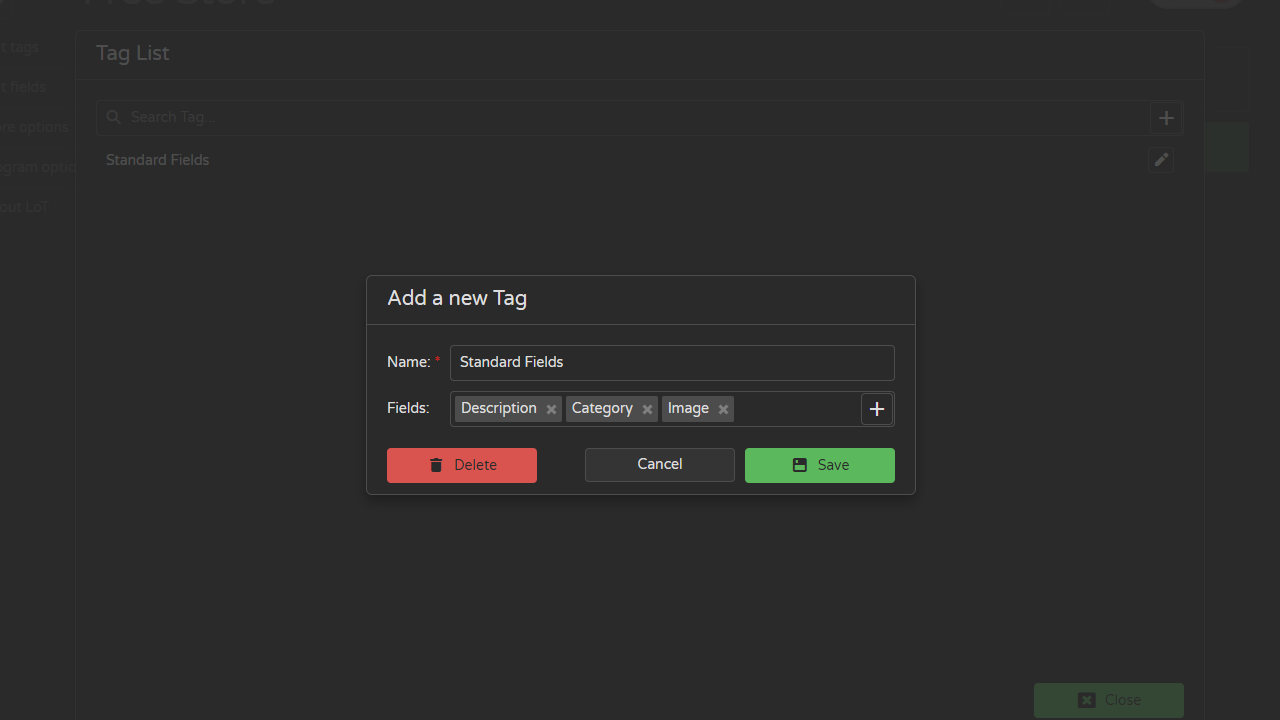 SHARE MULTIPLE FIELDS VIA TAGS
If several properties occur repeatedly in things, it is possible to summarize these properties within tags. This means that they can be easily assigned to several things and easily edited across several things at the same time.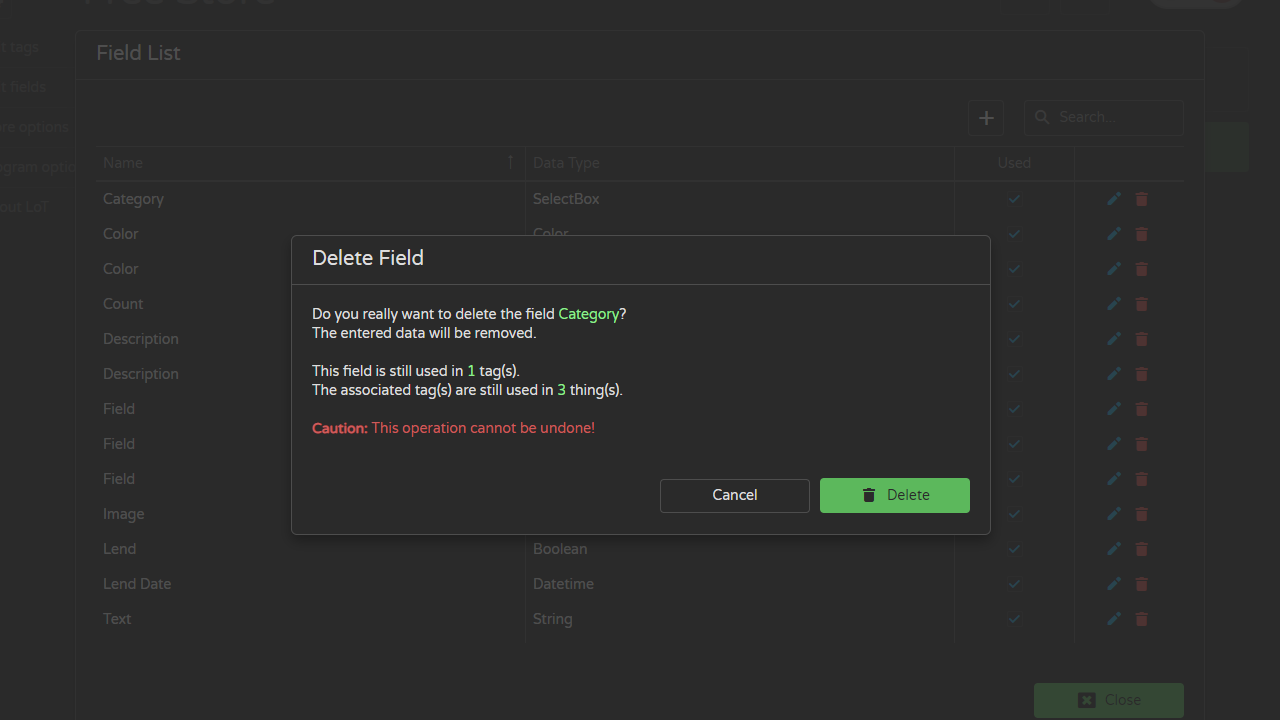 WARNINGS BEFORE REMOVING A FIELD
Before a field is deleted from one or more things, information is displayed about how often the field is still used. In this way you can be sure that no field that is still in use is accidentally deleted.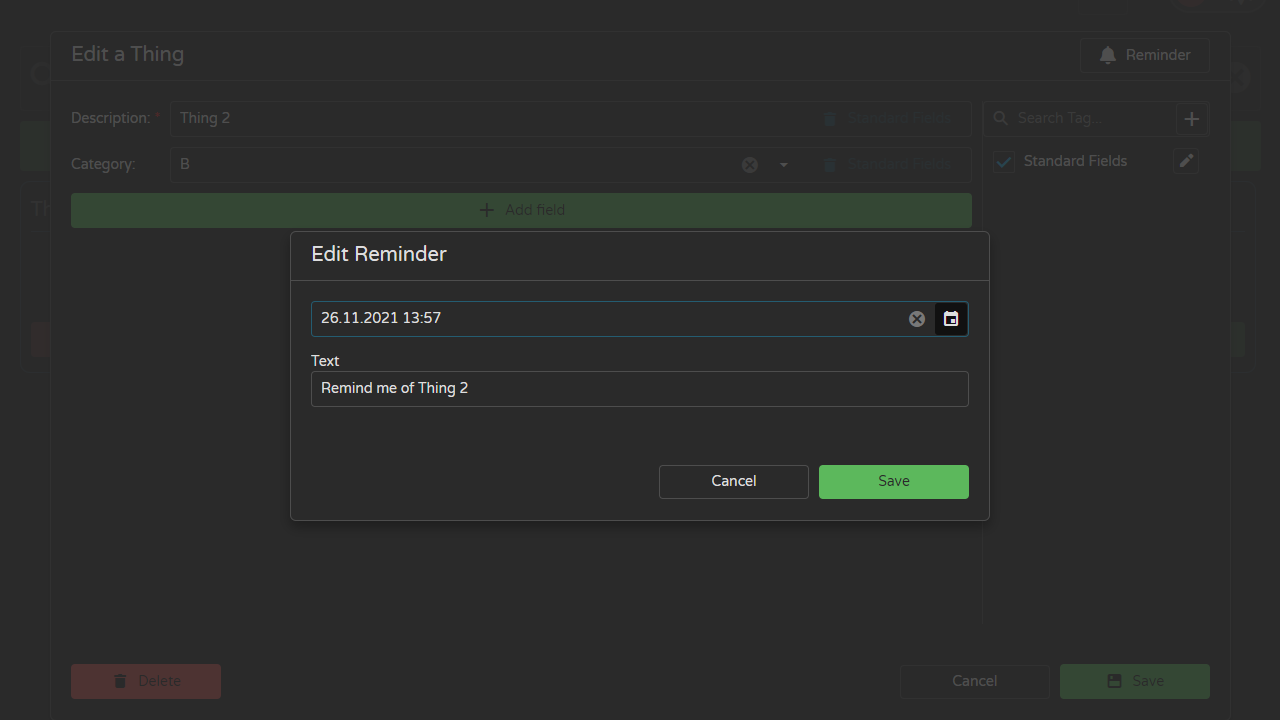 REMINDER
An individual reminder can be set for each field. Let yourself be reminded, for example, that you have to bring a book back to the library.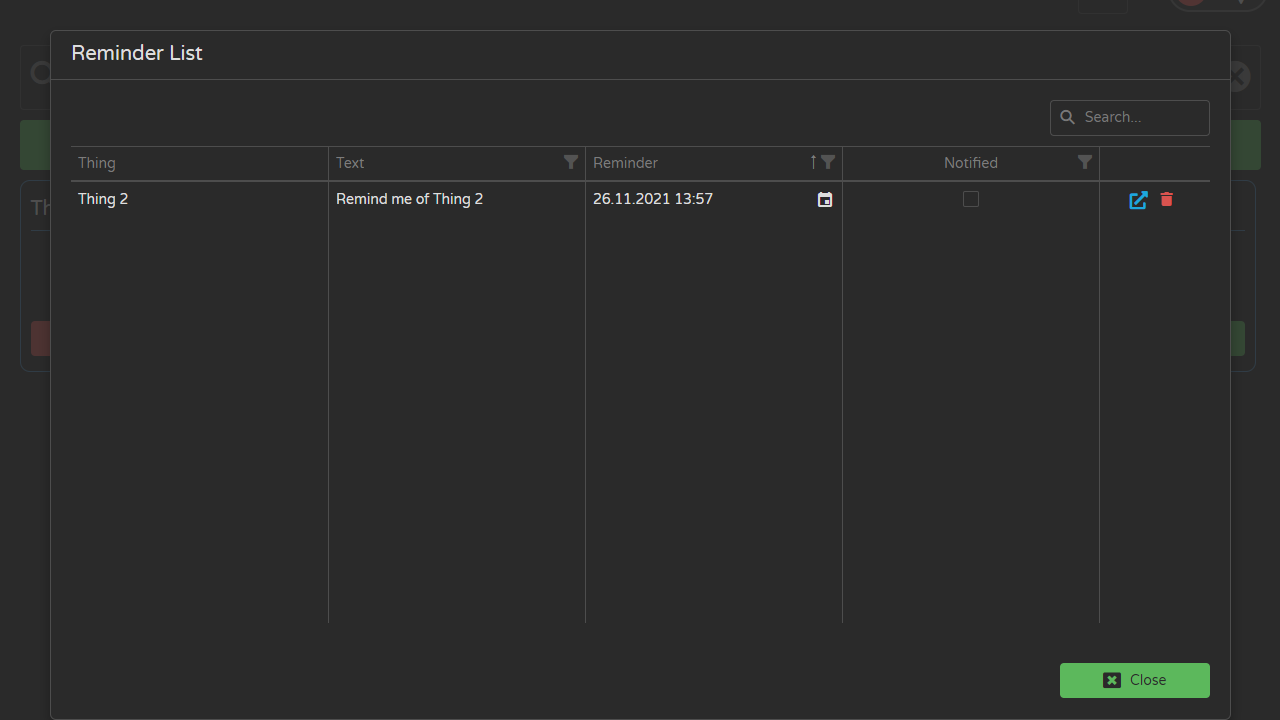 REMINDER OVERVIEW
In the view for all reminders you can see which reminders are available and which have already expired. You can also edit these directly or jump to the relevant thing.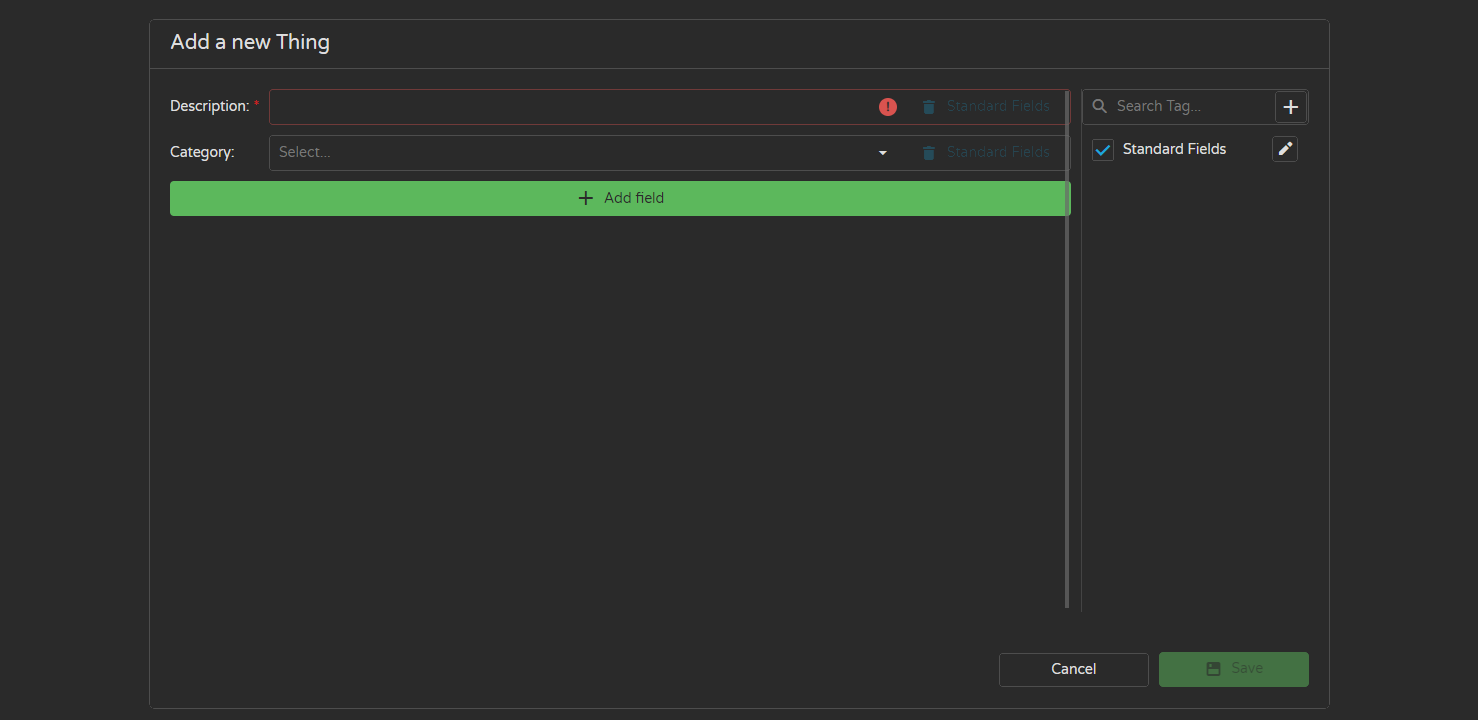 REQUIRED FIELDS
You can mark property as required. So you never forget that the corresponding property has to be set.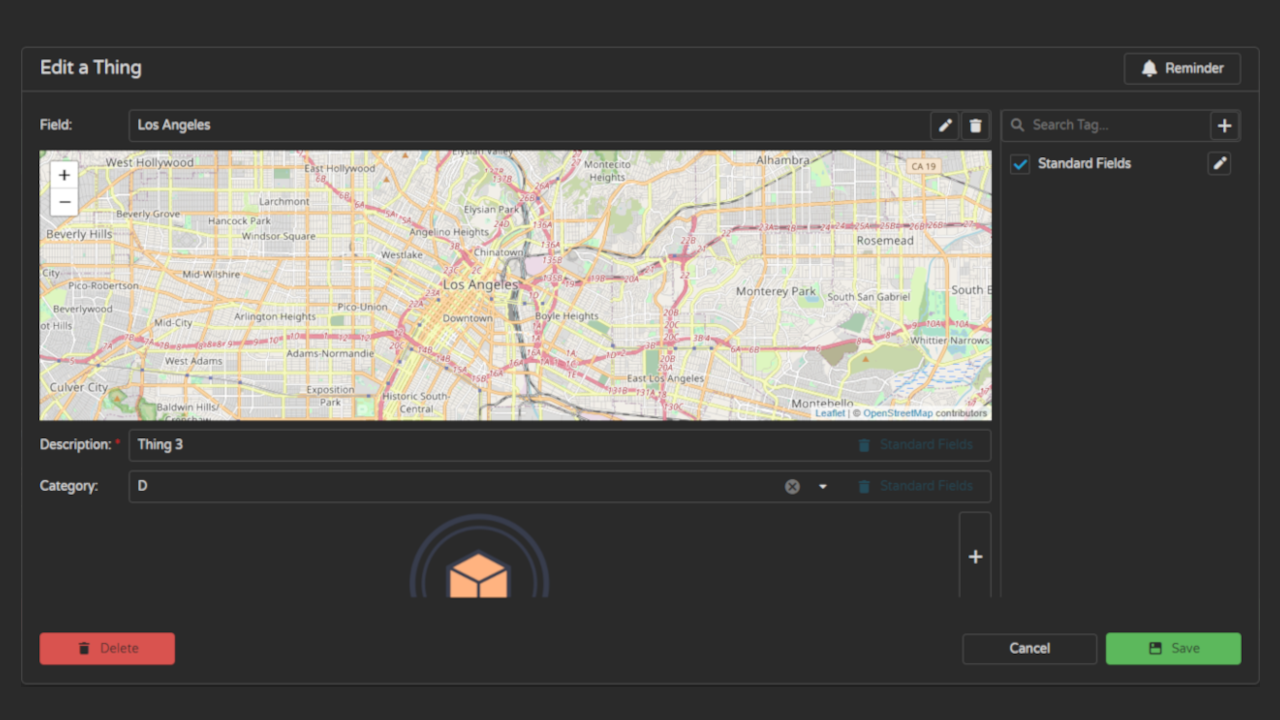 MAPS
Stick a mapon a thing. This can easily be entered by, an address. This means, for example, that you always know where you bought the thing in question.
* only availabe in Pro version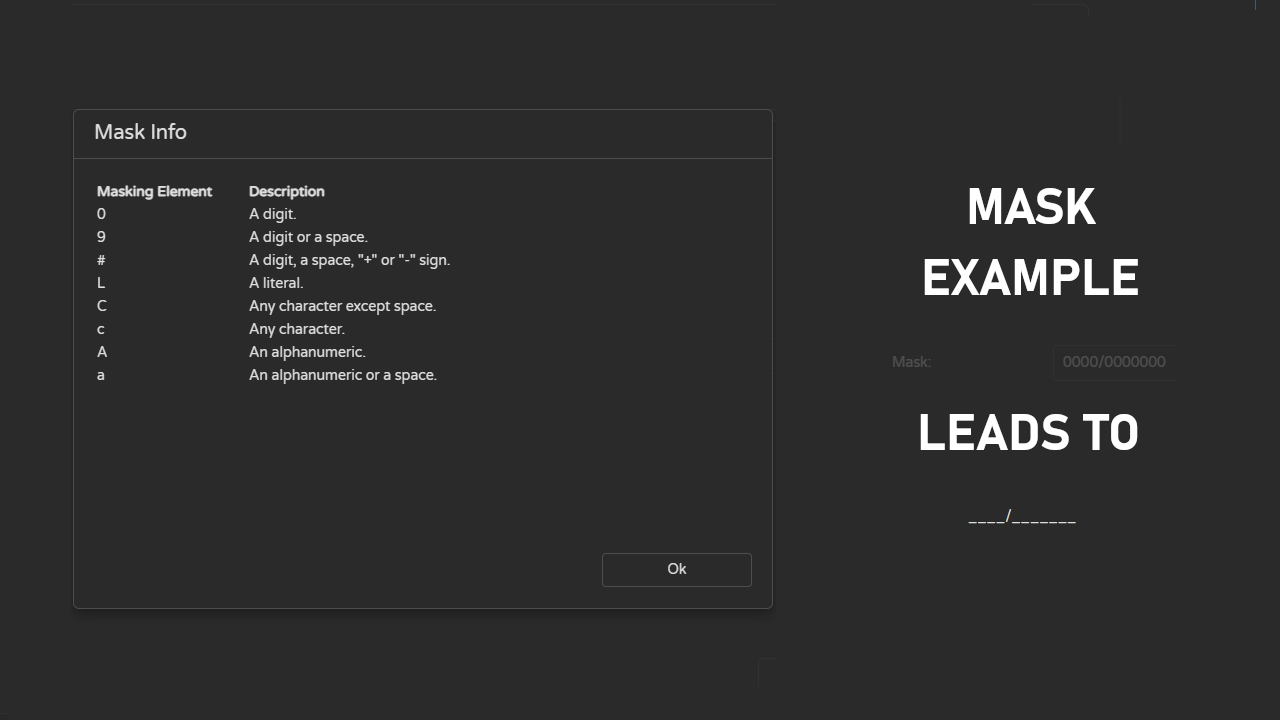 TEXT MASKS
Mask text eg as telephone number, email adress or anything you can imagine.
* only availabe in Pro version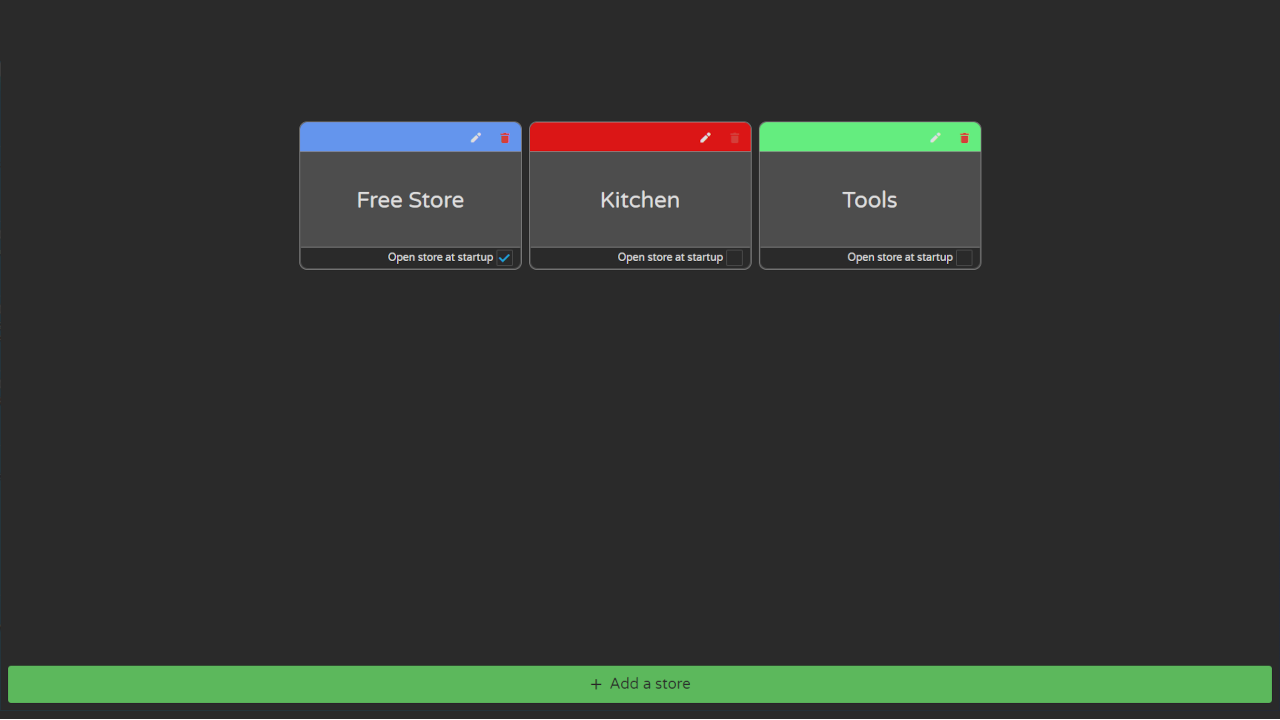 MULTIPLE STORES
Several Stores to manage things even more easily and clearly.
* Only available in the Pro version
Free and Pro Version Compare
| | Free | Pro |
| --- | --- | --- |
| Field Types | | |
| Text | * | |
| Numbers | * | |
| Datetime | * | |
| Color | | |
| Checkbox | | |
| Slider | * | |
| Textarea | | |
| Selectbox | | |
| HTML | | |
| Map | | |
| Images Gallery | | |
| File Attachment | | |
| Features | | |
| Automatic Updates | | |
| Reminder | | |
| Multiple Stores | | |
| Changeable data directory | | |
| Copy Things | | |
| Possible Things | 100 | Infinite |
*
Some features only available in Pro Version